The company
India is a special case when considering fountain pens. It's a very large country with a very diverse lower/middle/upper class distribution and with a strong commitment to traditions. All of these are affecting every day life, including writing. At school and at work, cheap fountain pens are very usual since they are very cost effective, in some cases more than disposable pens.
Indian people are also very industrious and lately several artisans have appeared on the web who manufacture and sell unique pens that are difficult – if not impossible – to find in other markets. These artisans are not new in the trade, most of them are very skilled and have acquired their experience through many years of hard work. The Internet has given them a new channel for selling their products and fountain pen enthusiasts are now discovering them.
One of these artisans is Mr. Manoj Deshmukh who has created the brand Fosfor, derived from the Greek phosphor. According to his webpage, he started writing with fountain pens when he was young, then started collecting them and is now making and selling his own pens full-time. He is discussed in several forums on the Web and he uses several materials to make his pens: various woods, ebonite, resins and polyester. He even makes the metal furniture adorning his pens by hand.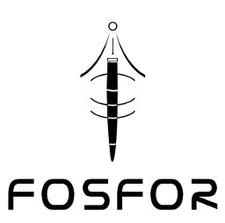 The Fosfor logo

Ordering procedure
Ordering a Fosfor pen is a little time-consuming and slighly complex, but is certainly worth it: each pen is unique and fully customisable. One must first choose a design, then choose a material (wood or resin) and finally, a nib width. An average price for a pen is $80, excluding shipping costs, but here lies a complication: Mr Manoj's pens are quite popular and he has a long waiting list. During December 2016, the waiting list is 29 weeks, meaning approximatelly 7 months! Thankfully he uses a fast track option, where the interested party pays an additional 20% on top of the pen price and the order is prioritised. Thus the pen is manufactured almost immediatelly.
Mr Manoj sends photographs of the pen during manufacturing, making the buying experience very different than buying a normal commercial fountain pen. You can see the first photograph of my own pen, shortly after it was turned below. This was sent to me on the same day it was manufactured.
Pen photograph immediatelly after manufacturing

Construction
For my own pen, I chose resin which was poured and set by Mr Manoj by hand. I chose black, white and orange and Mr Manoj poured the resin cylinder which was then turned to make the pen. This process has its merits and drawbacks: each pen is truly unique, but on the other hand, you can't be sure how the final result will be. I myself chose to trust Mr Manoj and was rewarded by a wonderful pen, just as I expected it to be.
The Islander pen is quite big in size and its tail-end is quite narrower than the cap. It's not a classic design by any means, but it also isn't too eccentric either. It's bigger than a Lamy Alstar, which is a medium sized pen.
The Fosfor Islander over a Lamy Alstar
Mr Manoj manufactures everything by hand, even the cap ring which has many different designs to choose from. I didn't specify a design and Mr Manoj chose the following ring.
Detail and cap ring on my Islander
Nib and writing experience
Mr Manoj uses steel Schmidt nibs, which are high standard and their behaviour is predictable: wet and smooth. I am not sure if Mr Manoj checks each nib before sending, but my pen wrote perfectly from the start, perhaps better than any other steel-nibbed pen I own.
The Schmidt nib of the Islander pen

The only negative I could find with this nib is that it has a certain European flair to it, that may not fit with the Indian heritage of the pen. I am inclined to say this, since most other Indian pens I own have Indian-made nibs which are either great or terrible. But a great Indian nib makes many other more expensive pens look meagre in comparison. These are the popular Ambitious nibs that are installed on many artisan Indian fountain pens.
The filling system is cartridge-based and the pen may also be converted to an eye-dropper, meaning the ink can go directly in the barrel of the pen. This is both good and bad:
The pen barrel acts as a huge ink reservoir, which can hold more than 5ml of ink. This is enough for hundreds of pages of writing.
On the other hand, eye-dropper pens can spit ink, especially if the ink level is low. I also would not recommend traveling with an eye-dropper, unless you are feeling very adventurous.
The choice of a Schmidt nib fixes the quality of the writing system above average and you know what you are getting. For me, it's a good choice.
Conclusion
The Fosfor Islander pen has a unique position in my collection and accompanies me in most of my travels around the world. It's beautiful, special and I feel it's a personal item rather than an ordinary pen. If you can do so, order one from Mr Manoj and you will not regret it. Even the ordering process will be something you will not forget.